Overview of eCheck Casino Payments the USA
The online gambling industry nowadays is all about speed. Therefore, most players always search for new payment options for quicker transactions. However, one thing that's often neglected is the security of those payments. As a result, users constantly face delays, uncredited funds, or even lost payments. So, how can you avoid that and finally enjoy a seamless online gambling experience in the USA?

The answer lies in a fantastic alternative payment method that most US online casino platforms accept. And that's the so-called eChecks. As their name suggests, these represent the standard check payment system that was widely used in the past but an electronic format.
Highlights

Banking Type - eCheck
Deposit Time - 1-3 days
Withdrawal Time - 3-7 Days
Fees Varies depending on top-up method
eCheck Summary
Most US residents are familiar with this method as they have probably used it at least a few times through paying their day-to-day bills. But eChecks can also be effectively exploited for online casino payments. In the following lines, we will uncover how that happens in practice and what you should be aware of before making your first eCheck gambling payment.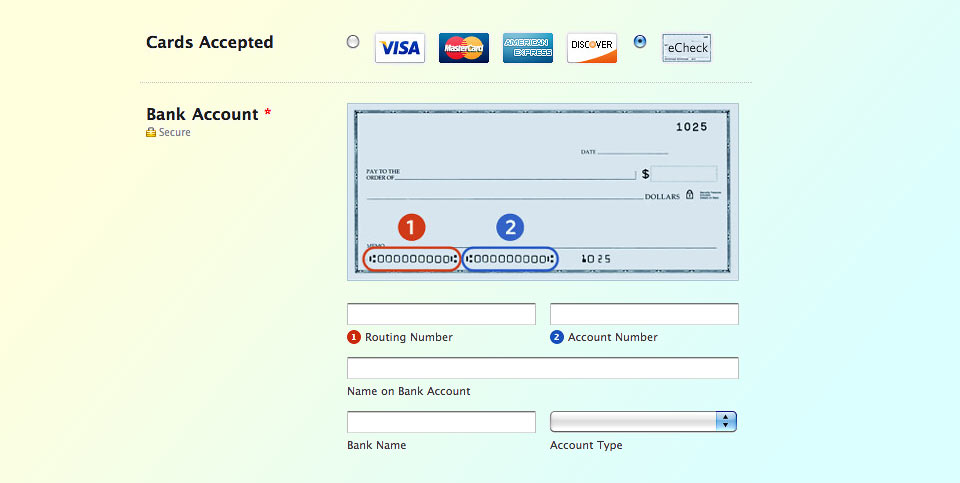 How does eCheck work?
Echecks are much more straightforward than you might think. The great thing about this payment method is that you have to provide the name of your bank, bank account details, and the bank routing number, letting the casino and your bank do all the work to process your payment as securely as possible. But let's dive more into some unique specifications of eChecks and why they can be valuable tools for your gambling experience in the USA.
Widely Accepted in US Online Casinos
We mentioned how most US citizens should be familiar with how eChecks work. That's because the US financial system is designed to require payments often this way. And this is displayed in the online casino gambling scene in the country. Most reputable and licensed platforms accept eChecks as payment methods, gradually making this option more and more popular among gamblers.
Higher Limits
Due to these payments' unique nature, the casino and your bank are in direct contact, and you can enjoy higher deposit and withdrawal limits as a gambler. Of course, this is highly exclusive to the different online casinos. Still, you should easily be able to take advantage of deposit and withdrawal limits reaching higher than $15,000.
Slower Deposits
Even when the whole check process is transitioned digital, processing all your details and sending the payment still takes some time. That's why when using eChecks, you must know that your funds will hit your casino account in between one and three business days. That's
Top 5 eCheck Casinos Online in The United States
See our list for the best online casinos that accept eCheck Transfers in The United States. We have checked out all the best sites, so you can simply choose one and get started straight away.
Is eCheck Safe for Online Gambling?
We mentioned that players in the online gambling world often neglect safety. But that's a crucial mistake, and many have learned this lesson hard. If you aren't someone who necessarily wants to deposit and gamble immediately, using eChecks will be your best option because of their impeccable security. That's because you let your bank take complete control and responsibility for the transfer. Your only task is to provide the correct bank details.
These large financial institutions always use the most advanced security systems for all their transactions, and various insurance policies even cover your funds. On top of that, you never provide personal details to the online casino itself or other third-party payment processors, which demolishes any risks involved with online payments. As a result, echecks are easily one of the safest payment methods you can use for online gambling in the USA.
Pros and Cons
Pros:
Direct contact between the online casino and your bank
You are less involved in the payment processes
Advanced security, insurance, and protection
Higher deposit and withdrawal limits
Little to no fees
eCheck transactions are reversible
Cons:
Deposits take from one to three business days
Withdrawals tend to be slower than most alternative payment methods
Why Should I Use eCheck at an Online Casino?
After uncovering how eCheck casino payments work in the USA, you are probably beginning to wonder about the most significant benefits you can expect when using this unique payment method for your online gambling experience. So let's check up on that.
Reversible Transactions
No matter what online gambling payment method you use, making a little mistake can easily mean losing your funds in a flash. Almost all transactions you can make online are irreversible. And even when they are, you should go through the incredible hassle of contacting payment processors, losing long and frustrating days. On the other hand, before your eCheck is approved, you always receive the option to confirm or decline the transaction. And sometimes, this is a genuine lifesaver.
Freedom of Choice
No more browsing through limited online casino options. If you want to use bank transfer payments, you can join most online gambling platforms in the USA. As one of the most accessible online banking options, it's no wonder most casinos in the country widely accept it. And this means you will have quite a bit of freedom regarding your choice of a gambling platform.
One of the Highest Online Gambling Security
If security is your leading demand when making online gambling transactions, you can't miss out on eChecks. When using those, you never provide any details to a casino, and your bank handles the essence of the payment through its highly advanced security system. You have to check if all the information on the eCheck is correct and confirm the transaction.
Perfect for Large Deposits and Withdrawals
Higher-stakes players always prefer to use more conventional payment methods in US casinos for their online gambling endeavors. That's because these allow more significant deposit and withdrawal limits, making the payment process more seamless and straightforward. Using eChecks means you can get around most of the typical withdrawal restrictions and focus on enjoying the most entertaining games without worrying if you will be able to get your funds easily.

Conclusion
Undoubtedly, eChecks aren't a payment method that brings you the quickest transactions in the US online casino scene. However, this payment option will guarantee your security and satisfaction in the long run, especially if you enjoy betting with more substantial amounts. So, why not leave the challenging gambling transactions to your bank and casino and enjoy the best games in the industry? Check out our top list of online gambling platforms that accept payments with eChecks today.
FAQ
✅

Can anyone use eCheck payments?
Yes, as long as you have an active bank account, you can seamlessly take advantage of these payments for online gambling.
✅

How will I withdraw my winnings?
The process is relatively the same as the eCheck deposit. You just have to correctly provide the required details and select the amount you want to withdraw.
✅

Are there any deposit or withdrawal fees with eCheck payments?
One of the most significant benefits of eCheck payments is that the fees are only charged from your bank and are minimal.